9-08-2017, 19:37
Festival "Day of Bekin" was held in Krasnii Yar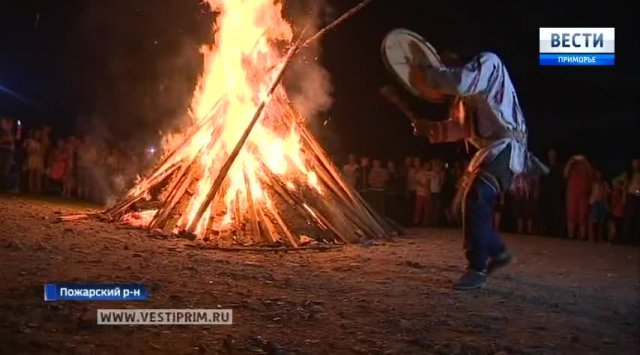 The citizens of Udege village Krasnii Yar celebrated two holidays at the same time – the 60th anniversary of Krasnii Yar and the day of indigenous people of the world. The holidays were combined into one big ecological festival "Day of Bekin", the main purpose of which was remembering ancient Udege traditions.
The weather was bad at first at the beginning of the festival, but after the shaman appealed to five Udege gods, the Sun appeared.
Vasiliy Dunkai, shaman: "Before doing anything we always appeal to gods for their help".
First of all, "Day of Bekin" is the day of remembering ancient Udege traditions. The main organizer of the festival is the national park Bekin, one of the main purposes of which is to save the long-standing way of living of Udeges. It is hard to think about the traditional life of Udeges without thinking about the river and boats.
Managing to steer an omorochka, the name of Udege boat, is one of the most important skills in the life of Udeges, as it allows people to travel and fish.
The boats also compete in speed during the festival. But for races, big boats "Baty" were chosen. Each team has two boys who push with a pole and a girl who rows.
On the sports ground people decide who's stronger by playing zelige. It is an almost forgotten kind of sport. It develops the skill of fishing in children.
Besides sports activities, there were a big concert and a fair during "Day of Bikin". One of the most interesting and touching moments of the day was a special video for everyone. Photos of almost everyone in Krasnii Yar were taken to create it.
News source: www.vestiprim.ru