5-10-2018, 16:43
Teacher of Oleg Kozhemyako: "He grew up a happy, noisy and capable child"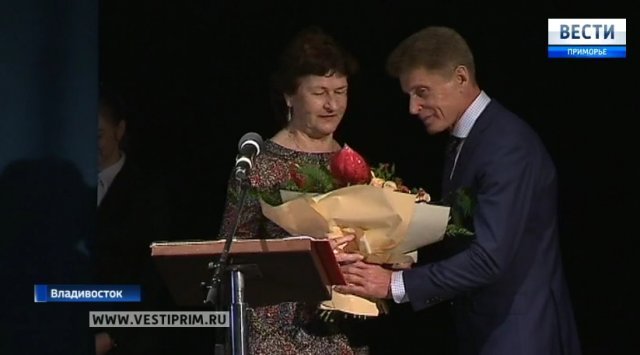 In the 5th of October Primorye teachers celebrate their professional holiday. Now there are more than 21 thousand teachers in Primorye. Today the best teachers and preschool education employees received state awards. These teachers have many years of experience, the recognition of colleagues and students. Every day they give their warmth and knowledge to thousands of pupils.Regional authorities also come to congratulate them with holiday. The head of the region presented state awards to teachers and workers of preschool education": diplomas, gratitude. Also Oleg Kozhemyako thanked and send the flowers to his teacher from Luchegorsk, Taisiya Kurbatskaya.
Taisiya Kurbatskaya, teacher from Luchegorsk city: "He grew up a happy, noisy and capable child"
The class, in which was studied the head of the region, was the first for Taisiya Kurbatskaya. 39 years passed since his graduation, but the students and teacher are still in touch. Oleg Kozhemyako noted that Primorye schools should become real modern education centers. At the meeting he told about the plans for the repair of schools and the construction of new buildings.
Oleg Kozhemyako, temporarily performing governor in Primorsky Region: "We should work for the benefit of Primorye residents, modernize schools, to build, to attract young specialists, make real step. "
In Primorye, they will develop a program to support young professionals - incentive co-payments and provide the houses. In each school must be extended day group.
News source: www.vestiprim.ru