4-10-2018, 16:03
Primorye is becoming more attractive for Europe business communities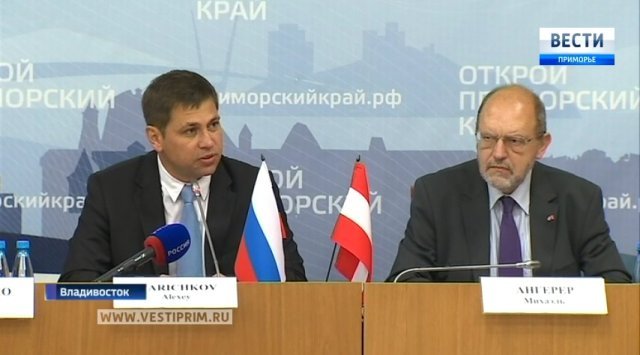 There were representatives of eighteen Austrian leading industrial companies. Austrian businessmen came to explore the business opportunities in Primorye.
And there is no sanctions for this can prevent it.
Michael Angerer, Regional Director for Foreign Economic Relations with Eastern Europe and Central Asia of the Austrian Economic Chamber:
"We see great opportunities far from Austria, at a distance of 11 thousand kilometers. And we hope that we can here establish business contacts between Austria, the Far East and Primorye. "
Participants of the meeting noted that such sectors as agriculture, machine building, food processing, processing industry, road construction and tourism are very perspective for cooperation between Austria and Primorye.
Alexey Starichkov, Director of the Department of International Relations of Primorsky Region:
"Each of them has proposals for cooperation. Someone offers to sale technological goods in our region. It is very interesting. This can be very profitable. Some companies are ready for investment cooperation. This is our task to convince our colleagues to work more active in the Primorsky Region. "
During the meeting of the Austrian delegation with the leaders of Primorye relevant departments and development institutions, they were talking about the region's investment opportunities, attractive business projects, advantageous operating modes of the territories of advanced development and the Free Port of Vladivostok.
The mission participants hope for fruitful work and the strengthening of the international relations of Austria and Primorye.
News source: www.vestiprim.ru