7-09-2018, 16:00
A unique "vacuum cleaner" appeared in Nakhodka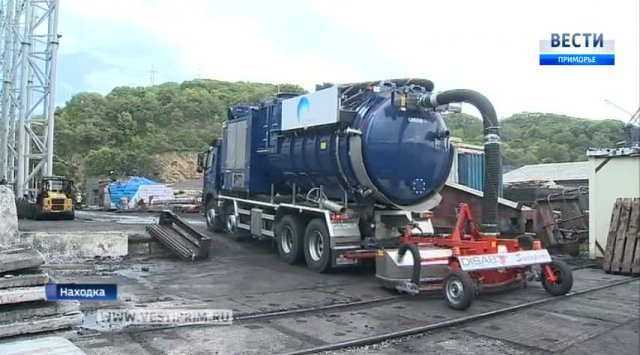 In Nakhodka city Astaf'eva terminal there is the newest vacuum machine. Like a huge vacuum cleaner, it is able to clean both the territory of the enterprise and the streets of the adjacent microdistrict.
Even yesterday, this handsome man was at the factory "Volvo", and already today he is working on the territory of the coal terminal "Astafiev". The vacuum machine will work not only at the enterprise, but also, if necessary, it will clean the roads of the adjacent microdistrict.
Removes dust. Pumps the puddles formed after the rain. There are only three such units in Russia: in the ports of Murmansk, Vanino, and here at the terminal Astaf'eva:
In addition to taking care of cleanliness in the company, the Astafiev Terminal does not forget about the adjacent microdistrict. The company has adopted a social program that will replace the old windows with new ones for the residents of the two houses, as well as repair the balconies. Works on the first stage are already being completed.
At the request of the residents soviet entrance doors changed to the wooden. Established exactly what people wanted.
Their windows face the terminal. And for several weeks, the residents of the houses along Astafiev Street have been watching the enterprise complete the installation, the highest in the ports of Nakhodka, of a dust-proof fence. Its height from the railroad side is 21 meters, and from the sea - as much as 25 meters. Completion of the installation will mark the end of the first stage of the enterprise's transition to a completely closed coal transshipment.
News source: www.vestiprim.ru