25-07-2018, 11:13
The citizen of Seoul develop agriculture in Primorye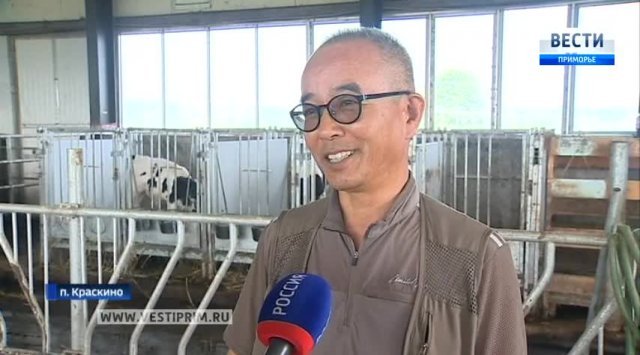 In the Khasan district, at the border with China, the South Korean resident from Seoul decided to develop Russian agriculture. He built a modern cowshed and provided jobs for people living in Kraskino village. He carries milk to the orphan home for free. He dreams about expansion of production.
The black and white cows of Holstein blood (the most popular breed in the world) line up for day milking themselves. These cows have a distinction in high productivity –each of them gives more than 6 tons of milk per year. A lot of them are known by names.
The farm was built 2 years ago by Mr. Zhang, Seoul resident. He says that agriculture is his vocation. And for realization his dream he has chosen Russia, the south of Primorsky Region.
There are only 150 cows on the farm, but Mr. Zhang is preparing the plan for the second cowshed. He likes his cows called Zorka, Pestrushka, Mashka. That's why he goes back home in Seoul not very often. But he hopes that Koreans will love dairy products one day.
The cows give 800 liters of milk every day. The volumes are not so great, it's barely enough for people from near villages. Because of it the new equipment for the farm was bought. There will be about 500 cows for milking in future.
The finish of building the farm gave 25 job positions for residents of Kraskino village. People work as milkmaids, machine operators, veterinaries. There are no vacant positions for the moment, but the situation can change anytme.
News source: www.vestiprim.ru