4-10-2017, 23:59
Azerbaijanis of Primorie have presented their national traditions during the festival "Meridians of friendship"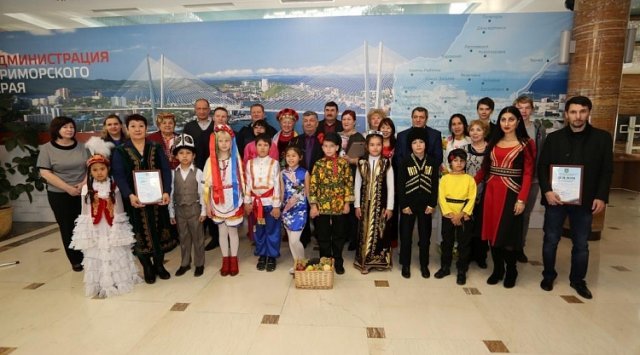 Traditional dishes, a variety of national costumes and songs in dozens of languages. Folk festivities were held in Vladivostok, in which Russians, Ukrainians, Armenians, Germans got acquainted with the cultural heritage of different countries. Now in the region, there are 158 nationalities. And, as the guests of the event noted, they have a lot of things in common.
Country of carpets, oriental dishes, and singing mountaineers. A rich centuries-old culture of the Azerbaijanis tell the citizens of Primorie.
Elnur Rafat, a representative of the Azerbaijani diaspora: "Shakh-plov. The exact translation of Tsar-Plov. Was prepared only for kings. Inside you can find lamb, chestnut, dried apricots. Very tasty plov. "
A traditional dessert is jam with tea. And the leaves of the Indian plant are not included in the composition of tea leaves.
Istam Tulaev, a representative of the Azerbaijani diaspora: "There are 20 species of high-mountain grasses here. This tea is prepared only in Azerbaijan. "
Russians also know the traditional Caucasian hat.
Vugar Mammadov, a representative of the Azerbaijani diaspora: "The hat is also good in the summer and it's good in the winter ".
Ramiz Zeynalov, the chairman of the Azerbaijani diaspora "Friendship": "80% of Azerbaijanis took Russian citizenship, that is, they chose the Primorsky Territory as their permanent place of residence."
Far Azerbaijan, its natives, and culture are recognized by Primorye, turned out to be close and understandable. And all 158 nationalities that now live in Primorye - this is the history and richness of the region.
News source: www.vestiprim.ru