10-10-2017, 23:47
The German diaspora of Primorie introduced their traditions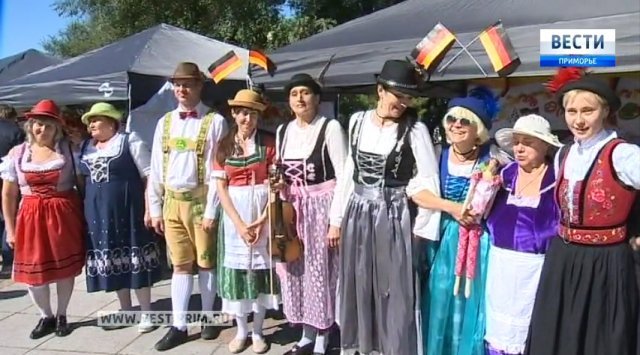 Multinational Primorye - a variety of colorful costumes, songs in dozens of languages. Now there are 158 nationalities in the region. And two years in a raw they all come together during the festival. Each nationality contributed to the history and development of the region.
Hats with feathers, bright corsets on lacing, breeches on suspenders. On a multinational holiday in Vladivostok, a traditional German costume can be easily distinguished from the Asian ones. Once a year the whole republic dresses up.
Anna Pavlenko, a representative of the German diaspora: "This is a traditional clothing for the Oktoberfest beer festival, everyone at the festival is dressed like this. The Germans know how to work and know how to have fun. "
Svetlana Vashanova, a representative of the German diaspora: "Our women are very fond of sewing dolls. Here is the hare-Tilda, the doll-Tilda. They like to crochet and make different toys. "
And, of course, every housewife has traditional recipes. During the festival in Vladivostok, they were tested by the citizens.
Nina Krauz (Dmitrieva), a representative of the German diaspora: "They are called buns, pampushki, brushwood. No! It's crepe. And pies - in German kug. And depending on the sprinkling - a rible-kug or a kaze-kuga. "
Rehearsal - before going on stage. With German pedantry.
Svetlana Afanasyeva, a representative of the German diaspora: "The love for German music is huge, there is not a single person who does not know German composers."
Now the German diaspora in Vladivostok is not numerous. And during the founding of the city, the Germans gave impetus to the development of the regional capital. The most beautiful houses in the historical part were built by businessmen from Germany.
News source: www.vestiprim.ru