26-07-2017, 12:17
The 5th children festival of Korean-Russian friendship takes place in Arseniev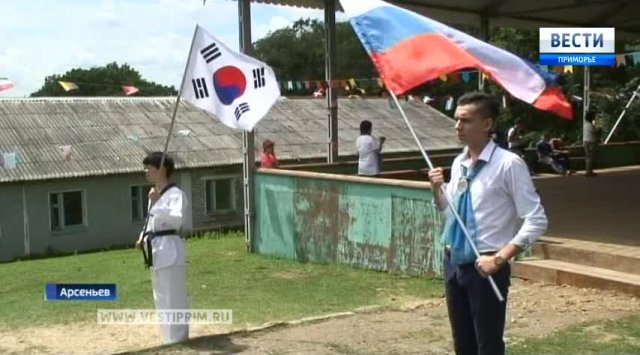 Pupils from South Korea are going to spend a week in Arseniev. The 5th children Festival of Korean-Russian friendship starts there.
Anastasia Bogachova recalls first festivals very well. She managed to learn Korean. Now she is a translator and she is good friends with some of the Korean participants.
Anastasia Bogachova, the participant of the festival: "They tell me all of their news, invite me to Korea".
Arseniev is the place where the first school of Korean language in Primorye opened this year. It was the initiative of local Korean diaspora.
Erikson Wongguy, the head of the Korean diaspora: "We are Koreans in the 4th generation. We don't forget that we are Koreans, but our mentality is Russian. Russia is our motherland".
Children festival is not just friends meetings, it is the real cultural exchange.
En Jik Lee, the head of Korean educational centre of Vladivostok: "Russia is very popular in Korea. Koreans are very interested in travelling here, as Russia is some kind of a gate to Europe for them".
International economic bonds are getting stronger as well as the cultural ones. There is a Korean association of Primorye, that connects people that develop industry in the region.
Ken Jong Lee, the head of Korean association of Primorye: "There are 300 citizens of Korean Republic in Primorye now. They are mostly here for business purposes or for studying Russian".
In short period of time Russian and Korean children are going to become friends. The festival's program has everything to make it happen.
News source: www.vestiprim.ru