14-12-2016, 17:23
More than 100 gifted high schoolers from Primorsky region have got Governors' Scholarship holder certificates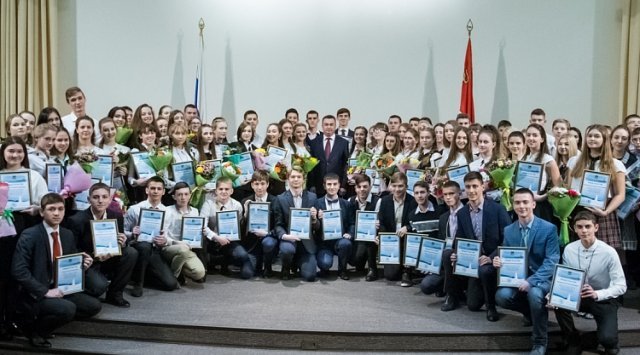 Governor of Primorsky region Vladimir Miklushevsky has bestowed Governors' Scholarship holder certificates on the gifted high schoolers on 13th of December.
Since the beginning of the school year 116 gifted high schoolers from 29 municipalities are receiving Governors' Scholarship in amount of three thousand rubles a month for special achievements in their studies.
Scholarship holders had to go through special selection. The main selection criteria were the age of the candidate - should be between 14 and 18 years old on the first of September this year. The high schooler should have "excellent" marks and no more than three "good" marks for previous school year. Besides, future scholarship holder should have certificates proving the conquest of the first places in the international, national, regional competitions, contests, parades, festivals and exhibitions.
Saying congratulatory speech, Vladimr Miklushevsky emphasized, that all scholarship holders are successful and purposeful young people.
Governor's scholarship is being given to the university students of Primorsky region for an outstanding achievements in studies since 2013. Upon an initiative of Vladimir Miklushevsky its size is being increased to 5555 rubles/month. This is a symbolic amount, since the highest mark in Russia is 5. At present, 300 students are getting governor's scholarship.
News source: http://vestiprim.ru/news/society/44177-bolee-100-odarennyh-shkolnikov-primorya-poluchili-svidetelstva-stipendiatov-gubernatora.html