2-08-2016, 17:24
Mixed Martial Arts Federation gathered 126 sportsmen in one interethnic team in Dalnerechensk.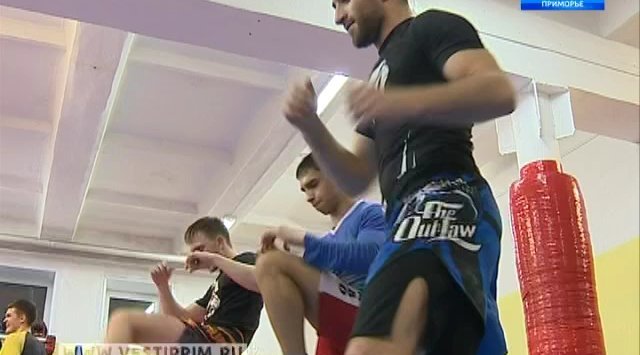 Mixed Martial Arts Federation gathered 126 sportsmen in one interethnic team in Dalnerechensk.
126 youngsters aged 7 years and older are busy with trainings. No one miss daily workouts. To be the first, you have to work hard. Pavel Dyagel is a trainer of young sportsmen , he himself is champion of All-Russian "Soldiers of Russia" tournament in unarmed combat, besides he is the head of Dalnerechensk Mixed Martial Arts Federation.
Coach Pavel Dyagel says: "I teach children, that they may feel anger at the ring, but after the fight you should to be friends, no matter what nationality you are, you should all communicate and make friends."
Senior and experienced sportsmen - the reigning champions- are training in the evenings. Each fighter hope to be trained by the famous coach in Dalnerechensk. For example, 23-year-old Ahmataj Islamada eagerly run from work to the gym. Almost 10 years ago his parents moved from Uzbekistan and settled down in this city. Here Ahmataj Islamada graduated from high school, gained friends and started his own family.
Ahmataj Islamada says: "I can say, that after spending just one month in Uzbekistan, I really want to go back there, I live here for tears, all my friends are here."
Armenian guy, Hakob Halgatsyan is also on the way to the highest sports achievements. During all these years, there were victories and defeats, but the guy is still working hard to achieve even more. The team has become a second family to him, and Primorsky region appeared to be his the homeland.
Hakob Halgatsyan says: "I am considered as local here, I live here for already 18 years. I grew up here, graduated from high school and served in the army"
Trainings in Mixed Martial Arts Federation in Dalnerechensk are being held for already seven years. Her students are involved in all combat disciplines: sambo, pankration, and hand-to-hand combat competitions. Fighters of Primorsky region are taking leading positions, not only in the Far East, but also take first places in the Russian and World Championships.
News source: "Вести:Приморье" [ www.vestiprim.ru ]