7-08-2019, 17:47
Fish that is a sign of tsunamis and earthquakes was caught in Primorye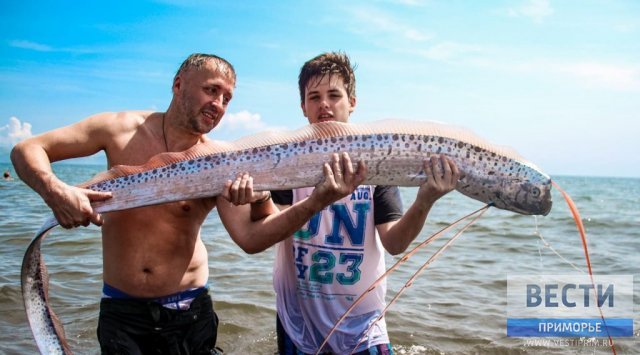 A gigantic fish was fished out in Slavianka district on August 5. The mysterious creature came to the shore, people caught it by the tail, took some pictures with and let go.
The fish on the photo is the Giant Oarfish. It has a body that looks like a belt, that can be 3,5 m long. The creature can be seen in Pacific, Atlantic and Indian Oceans.
Japanese consider this fish as a sign of tsunamis and earthquakes. According to ancient Japanese legends, oarfishes dwell on ocean bottoms and only come up before some natural cataclysms. According to some news agencies, several dozens of oarfishes were thrown out on the shore in 2011, before the tragic events that took lives of more than 20 thousand people in Japan.
News source: www.vestiprim.ru