25-04-2019, 18:39
Vladivostok is preparing for Easter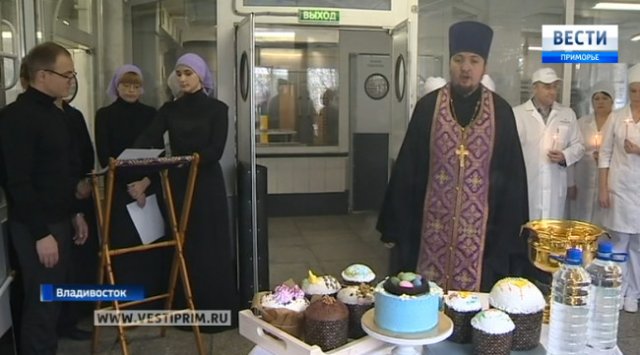 The cleric has blessed and sanctified raw materials for Easter in one of the bread factories of Vladivostok. The sacred rite was held in each production hall of a factory. This tradition is being supported by bread bakers for more than 22 years.
Bakers will prepare 80 tones of ritual loaves and rich buns sets for residents and visitors of Primorsky region on Easter holiday.
One of the unique bakery products are Diveevsky cupcakes that are made by a special recipe that includes the drop of the holy water from the holy spring of Seraphim Sarov, located in the Novgorodskiy region. The cooking process of Easter cake would take you 48 hours — from mixing dough to painting a cake with glaze. But to preserve the quality and convey the culinary traditions, the bakers started all preparing six months ago. Last year the trial production of cakes was done, flour and other raw materials were selected and the cakes on trial were made again. The main procedure starts after the consecration, on the Easter eve.
Exclusive Easter cakes with various fillings, Easter set of cupcakes and gingerbread — these are the things that you can buy today in the capital of Far Eastern region. Part of the earnings from the sale will be transferred to a charity fund to help children with very strong illnesses.
News source: www.vestiprim.ru