7-03-2019, 15:56
An exhibition of ceramics from the craftsmen of Primorye and Amur opened in the regional center of folk art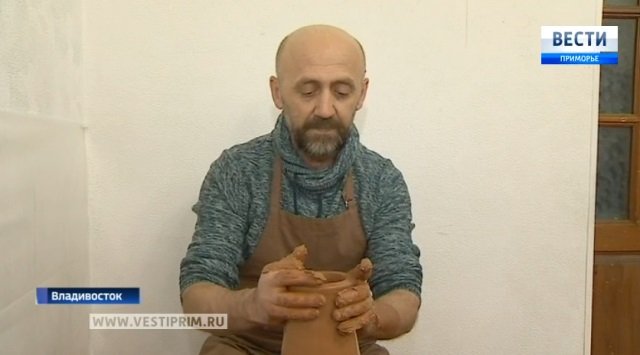 Masters of the potter's wheel gathered in the Regional Center of Folk Culture. An exhibition of designer ceramics was opened there: brothers from Vladivostok, fabulous jewelry boxes from Fokin and fancy vases from Khabarovsk.
Shahnazar Shakhnazarov said that in the old days, the potters, as well as the blacksmiths, were greeted very carefully, kneading clay with strong hands. He came from Baku to Khabarovsk for a Komsomol construction site, and became a master of woodcarving. But the genes called to learn further - the craft, which since ancient times was engaged in his ancestors.
"Create, invent, try" - under the motto of Mayakovsky for a quarter of a century Shakhanazrov became the best potter of the Amur region. His collections occupy most of the exhibition. "Northern Lights" - in cold blue tones. "Hot East", topped with a pomegranate flower. Recently, Shahnazar from Khabarovsk was awarded at the All-Russian Contest "Master Russia". Together with Natalia Khristenko from the seaside Fokino, which proves that on the potter's wheel you can create not only pots and jugs.
Natalie Starfish also came off the potter's wheel. Caskets in the form of gramophones, fun toys - original items made by craftswomen from Fokino side by side with traditional Russian utensils from the Vladivostok creative center. Krynki, plates, wide brother. But the mug, burned in porridge ...
From simple form to milky roasting, glaze and enamel - the secrets of pottery will reveal Shahnazar Shakhnazarov at master classes that will take five days in a row. Admission is free, as well as the exhibition, open until 23d of March at the Regional Center of Folk Culture on Pushkinskaya Street.
News source: www.vestiprim.ru