24-09-2018, 17:02
Sorochinsky fair was held in Vladivostok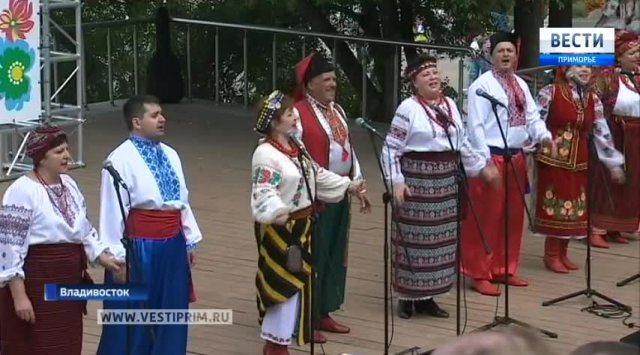 In Vladivostok on Sunday, September 23, for the eighth time was held the Far Eastern Sorochinsky Fair.
About a hundred masters from the different regions of the country brought products made in different techniques, including traditional Slavic handicrafts.
A concert of folk groups was held in the amphitheater on the waterfront of Sports Harbor.
Ukrainians were among the first immigrants who move to the Far East and influence on the development of the whole region.
Organizers said, Sorochinskaya Fair is a festival of Slavic culture, which was conceived as a bright, colorful event.
It's an opportunity to meet in one place, show their talents and skills.
Such fairs are held in Vladivostok since 2010
This year collectives from all over the Primorye take part in the event: Khorol District, Nakhodka, Nadezhdinsk, Tavrichanka, Artem, Fokino, and the Big Stone. A big delegation - 60 artists - came from Lesozavodsk.
Lesozavodsk brought the exhibition of children's art center.
Combine consumer services in coopertation with the youth center "Patriots of Russia" created a theater of ethnic fashion from several collections. Slavic, Tajik, Tatar collections were shown during defile in the event.
About 100 craftsmen brought to the fair various techniques, including traditional Slavic crafts.
There are also works of Yakut masters - ornaments from stainless steel.
Girl from Odessa also brought the exhibits. Many of the participants of the fair say: "It's good that we are not divided by any boundaries. We are united by common roots, traditions and culture, the desire for peace, friendship and harmony. "
Sorochinskaya Fair is not the only opportunity to gather. There are other projects. For example, at the beginning of the year there is a Christmas festival "Generous Evening", where they also present different crafts. However, the subjects are limited - these are a lot of Christmas souvenirs. At the Sorochintsy fair the imagination of the masters is not limited. Among the subjects there are products made of wood, fabric, beads, woolen threads, felt, stone, glass, clay.


News source: www.vestiprim.ru