25-02-2019, 17:48
Primorsky Kickboxing Federation held a lesson at the Pacific State Medical University High School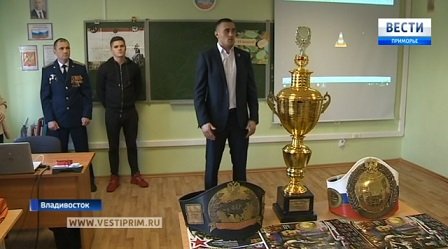 The Kickboxing Federation held a lesson in patriotic education on the eve of 23d of February Day at the lyceum of the medical university. The organizers are sure that it is important to conduct such classes for the future generation.
The courage lessons of the kickboxing federation are not new. Hold his team. Here are both world champions and a real special forces officer Dmitry Podolsky, now he is a major in reserve, served during the Chechen war and took part in a military operation in Syria. With lectures, they have already visited all the orphanages of Primorye.
The lesson of courage is first and foremost your own example of life. Thanks to the sport, two-time world champion Alexander Zakharov managed to drive around the whole of Russia. Although his first competition, he lost.
The students gathered to listen to the speakers. Many of them are getting ready to become military doctors and defend their homeland.
News source: www.vestiprim.ru