1-10-2018, 15:00
Flying predator and carnival procession surprised the Primors at the celebration of the Tiger Day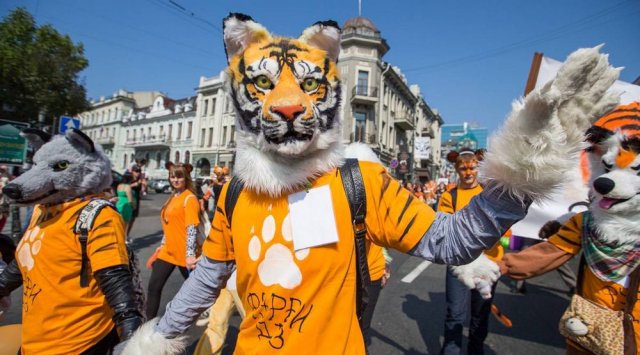 Vladivostok marks one of the brightest holidays in Russia - Tiger Day. More than 15 thousand inhabitants of Primorye passed in a colorful carnival procession from Pokrovsky Park to the central square of the regional center. People went out painted in tiger colors and in thematic costumes.
The celebration of the Tiger Day in Vladivostok began yesterday on the official date of the holiday - September 29. And one of the main animals that became a symbol of Primorye is celebrated, since 2000. Yesterday, the regional center hosted a gala concert and the presentation of gratitude and honorary letters from President Vladimir Putin to those who contributed to the preservation of the Red Book species.
Today, one of the main events in Primorye's life was a tiger carnival procession. People who came to the festive passage along the Ocean Avenue were very enthusiastic about the celebration. Primorsky painted themselves in tiger colors, dressed up in costumes of a striped predator, painted colorful posters, brought interesting hand-made articles and went out with creative numbers.
News source: www.vestiprim.ru