28-09-2018, 15:24
INTERNATIONAL TOURISM DAY IS CELEBRATED IN PRIMORYE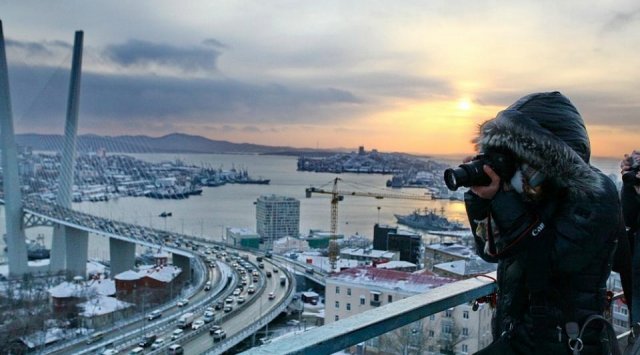 International Tourism Day is celebrated all over the world on September 27. In the Primorskiy Territory on this day the best 50 representatives of tourism organizations, which made a significant contribution to the development of the tourism sector of the region, will be awarded.
The director of Primorskiy Territory Tourism Department Konstantin Shestakov congratulates colleagues on a professional holiday and will award federal and regional awards to heads of travel agencies, tour operators, hotels and other structures that played an important role in improving the tourist attractiveness of the region, increasing the tourist flow and improving the conditions for the reception of Russian and foreign guests in the region.
Thus, honorary diplomas and letters of gratitude of the Federal Agency for Tourism will be granted to the representatives of the Primorye Tourist Information Center, the Primorye Agency of Aviation Companies, the Territorial Department of Tourism, "Katyusha", "World Roads" and other tourist companies.
In addition, Certificates of Honor and Gratitude of the Governor of the Primorskiy Territory will be presented to employees of the tourist center "Berkut", "DV "Fregat Aero" LLC, TIC of Primorye and other organizations.
About 30 representatives of the industry will receive the gratitude of the Vice Governor of the Primorskiy Territory and the Department of Tourism.
According to Konstantin Shestakov, tourism is a special sphere that unites not only employees of tour companies, but also hotels, recreation centers, souvenir shops, catering and trade enterprises, transport companies, airport, maritime station and others.
"This sphere is multiplicative. According to the World Tourism Organization, it accumulates more than 50 branches of the national economy. Thanks to the work of these entrepreneurs, their courage and activity, the industry develops and the flow of tourists grows. Together we make significant efforts to make tourism in Primorye a prosperous and successful direction," - the head of the department emphasized.
We remind that tourism - one of the most promising industries in Primorye. In recent years, new objects of the tourist display, large tourist complexes and clusters have been created in the region, new routes have been opened, dozens of major events have been organized and held. The level of service is constantly improving: signs of tourist navigation are placed, parking for tourist buses is created, international charter and regular air transportation network has expanded. The active work is carried out to promote the region in strategically important markets.
As a result of tourist flow to the region noticeably increases every year. If in 2015 the region was visited by about 2 million Russian and foreign guests, in 2016 this figure was already 3 million, and by the end of 2017 it exceeded 4 million. This year is also expected to increase the number of Russian and foreign tourists.
At the moment Primorye accumulates more than 70% of the total volume of tourist flows throughout the Far East.
News source: http://www.primorsky.ru/news/151016/