12-09-2018, 11:40
Putin-Tarasenko: "How should we help?"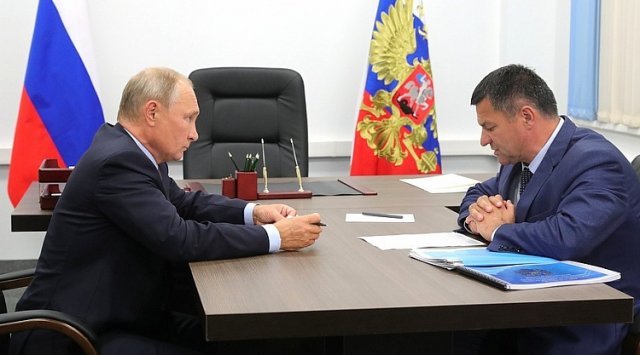 During the visit to Primorsky Krai, Russian President Vladimir Putin held a working meeting with the regional leader Andrei Tarasenko, Vesti: Primorye reported citing kremlin.ru.
The meeting discussed issues of liquidation of the consequences of the flood in Primorye, support from the federal budget in the construction of protective structures to prevent floods in the future. Also, the President and the head of the region discussed the economic and social situation in the region. In particular, Andrei Tarasenko focused Vladimir Putin's attention on the fact that there are not enough medical personnel in the province, and to solve this issue, support at the federal level is needed - the distribution of medical graduates from other regions to work in Primorye.
Vladimir Putin: Andrei Vladimirovich, we will not talk about elections now, or, perhaps, in the end. I know that you have a second tour. Everything, I think, will be in order.
I would like to talk mainly about the situation in the region. How do you assess it, what kind of problems do you see, unsolved, solvable, difficult to solve, what should we help?
A. Tarasenko: Now there was an active cyclonic activity. From the 21st to the 6th, a lot of precipitation fell out. 12 municipalities, 299 residential [buildings], large damages, damage on the road infrastructure - 720 million. According to people: 7,5 thousand people suffered, somewhere 117 million are paid. 34 thousand hectares of agricultural land was lost. This is somewhere around 680 million.
News source: www.vestiprim.ru