6-09-2018, 17:00
Primorye is struggling with the consequences of the disaster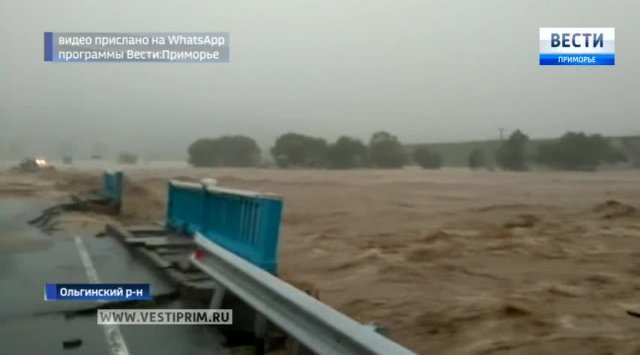 Primorye continues to be under the onslaught of the disaster. Forecasts for torrential rains were fully justified. On the rivers of the Primorsky Krai flood formation began again, under the threat of flooding dozens of populated areas. The emergency regime of regional character is extended to seven territories of Primorye.
The Milogradovka River. Olginsky district. The consequences of torrential rains are aggravated by the fact that because of a strong storm in the sea, water does not leave at the mouth, and the river begins to leave the coast to a settlement where almost all the buildings are in the lowland. Local, without waiting for help, themselves begin to strengthen the coast, to save the village - the entire adult population.
District authorities help a few - several pieces of equipment have been put forward to the site of the dam break. The first vice-governor Alexander Kostenko urgently leaves for Olginsky region, Primavtodor's heavy equipment is sent here.
Heavy rains shifted to the north of the region. There is a great danger over Svetlaya in the Terney region, here forces are sent for emergency rescue operations. Lazo-Zapovednoe highway, Sokolchi-Valentin, Valentin-Glazkovka are blurred in Lazovsky district. The village of Chistovodnoe and the village of Transfiguration are cut off from transport. In the Olginsky district the road to Furmanovo village is blurred, the bridge is damaged.
The most difficult situation is with high water in the upper and middle of Ussuri river, in the lower reaches of the Ilista River (Chernigov district). Flooded floodplains Razdolnaya, Arsenyevka, Komissarovki, Melgunovka, Abramovka rivers. In the flood zone - most part of the region.
To determine the damage in the province on the instructions of Andrei Tarasenko, 56 evaluation commissions have been formed, which calculate the damage and accept applications from citizens for compensation. The decision of the head of the region will be able to compensate those who have no insurance.
News source: www.vestiprim.ru