16-08-2018, 17:22
Historic find found residents of the village Zarubino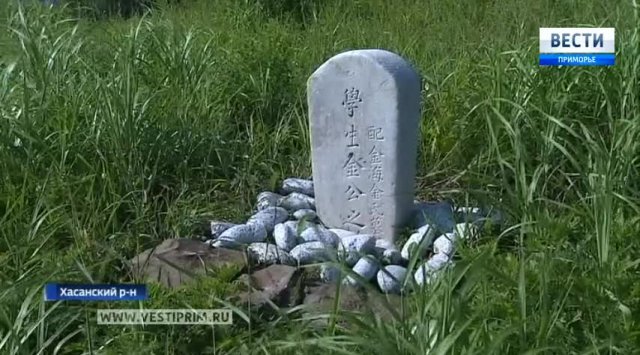 A historical find was discovered by the residents of the village of Zarubino on the Krabbe Peninsula.
They found a stone with Chinese characters.
It turned out that this is a tombstone. Belongs to the Korean family. The find has already passed the expertise of the museum of local lore, and our correspondents found answers to many questions.
A walk to the buggy along the peninsula turned into an archaeological expedition.
The brothers Stelmashchuk found a marble stone with Chinese characters, when the car accidentally uprooted him from the ground.
Yaroslav Stelmashchuk, a resident of the village of Zarubino: "The Chinese partners who were given the transfer were told that it was worth digging, finding gold there. We abandoned this stupid idea. We believe that marauding is impossible. "
Photos of the historical find residents of Zarubino were sent to the Arseniev museum.
It was reported there that the marble stone belongs to the 19th century.
At this time in the south of Primorye there were more than 100,000 settlers from the Korean peninsula. All of them had Russian citizenship and even accepted Orthodoxy.
Traces of the stay of the Korean immigrants are scattered throughout the peninsula.
Half-ruined walls of stone and clay – it was the Korean fanza.
In the middle of the house - utensils, without which the family of farmers could hardly live. An analog of the modern flour mill is a hand mill. Virtually not destroyed. This is the little thing left after the mass deportation of Koreans in 1938. In just two months, about 170,000 Koreans were evicted from the Far East.
As it turned out during the study of the funerary plate, hieroglyphs on it read: "In this land, a whole generation of the Korean family Kim is buried." True, they are written in Chinese. The family lived in Hunchun for a long time and from there came to Primorye. The staff of the museum, when they learned about the discovery of the residents of Zarubino, advised them to return the stone to its place.
News source: www.vestiprim.ru