21-06-2017, 18:29
Wild animals of Primorsky Region - Kharza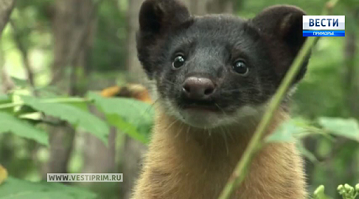 Kharza - one of the predatory inhabitants of the Ussuri taiga. In Primorye, it can also be found on the rocky coast of the Sea of Japan, and in the band of cedar-broadleaf taiga, and in thickets of vegetation in river valleys and keys. Avoid kharza only places with loose snow, where it is inconvenient to move around and it just sinks.
The muscular body of this rather large beast reaches 70 centimeters, the tail is 40-45 centimeters, and the weight is about 6 kilograms. Males are usually somewhat larger than females. Rough and comparatively short fur is bright and very well-colored. Such rich in color wool no one animal that belongs to the genus "kharza"!
For the bright coloring of the lower part of the body, the quince is sometimes called the yellow-breasted kharza. But to see this smart predator in nature can not often - she leads a very secretive way of life, trying to stay away from human habitation.
If the kharza was not asleep, she is in constant motion. Yellow-breasted kharza is an active predator, which can hunt at any time of the day. She is hardy. Run 15-20 km per day in search of food - for kharza is not a problem.
There is no permanent shelter for the kharza, where it is necessary to rest - in a heap of windmills, hollows of trees, burrows, depressions in rocks. This clever predator well climbs trees and in large quantities destroys the nests of small birds and destroys animals that live on the upper floors of the forest. For example, in search of a squirrel, the kharza examines each hollow, checking whether the victim was hiding there.
Kharza perfectly moves and along the tree crowns, making incredible jumps from tree to tree, up to 10 meters long! Like bears, the Kharza loves honey very much. And on occasion, she always ruins bee hives. .
In nature, in kharza almost no enemies, so the animals live to a ripe old age. And those who can no longer produce food, move closer to human habitation for easier prey - chickens and ducks.
News source: www.vestiprim.ru