20-03-2017, 17:24
The Slavic culture exhibition was held in Vladivostok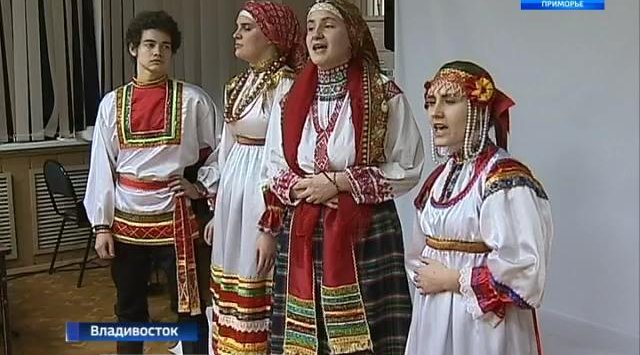 The Slavic culture exhibition was held in the regional library named after M. Gorky in Vladivostok. Needlewomen of Primorsky region presented samples of embroidery, weaving, carving and even complete sets of folk costumes. And folklore performers introduced fairy tales and songs in their primordial form.
A student ensemble of the Vladivostok College of Arts organized an immersion into folklore for the guests of the library.
Mikhail Aleksandrov, the leading singer of the "Rusava" ensemble: "Singing is what I always dreamed about, so I enrolled at the College of Arts".
Guests of the exhibition had a chance to enjoy the performance and look at the works of needlewomen at the same time. This time exhibition was dedicated to the Russian toys, traditional costumes, fairy tales, jokes and even psychological portrait of a true Slavic person.
Olga Vasina is one of the first, who organized creative women club in Primorsky region. This club allows not only preserve the traditions of Russian craft, but also to bring some money to the family budget. Foreigners like richly embroidered sarafans and head bands a lot.
Olga Vasina, the founder of the folk culture club: "You know, one day an old Chinese told us, that after visiting our exhibition, seeing costumes, hearing songs, he finally understood his mother. She turned out to be Russian. Japanese well-known journalist, who visited us, noticed that the Slavic people are alive. "
People of different nationalities can maintain themselves in creativity, folklore and national costumes.
News source: http://vestiprim.ru/news/ptrnews/47681-vo-vladivostoke-razvernulas-slavyanskaya-vystavka.html