13-03-2017, 16:10
What is Known So Far About New Russian Surface-to-Air Long-Range Guided Missile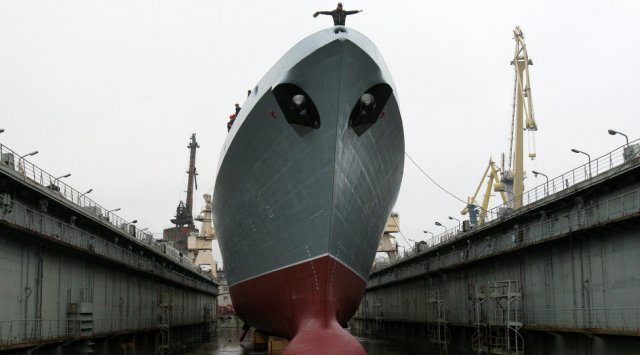 Defense Minister Sergei Shoigu said that Russia is conducting tests of an advanced long-range surface-to-air guided missile.
"We will also examine how [tests] of an advanced long-range guided missile are being conducted," Shoigu said.
Sputnik discussed the tests with Igor Korotchenko, a military expert and editor of "National Defense" magazine. According to him, the new long-range surface-to-air guided missile is a part of a 9K96 Redut (also known as Poliment-Redut) system.
"Apparently, the minister was speaking about works on the 'Polimet-Redut' [system], with regard to which an air defense missile system is being developed for advanced warships. Currently, a series of anti-aircraft guided missiles are being created for it. They include long-range missiles, which are being tested in accordance with the schedule and deadlines approved by the customer, the Russian Defense Ministry," Korotchenko said.
Moreover, long-range surface-to-air guided missiles are being developed for two missile defense systems: S-400 and next-generation S-500, he said.
"These systems will form the basis of a part of the firing system of the Russian Aerospace Forces. As for the work on the 'Poliment-Redut,' they will provide for the air defense of both single ships and naval groups of the Russian Navy. In addition, a new plant built by the Almaz-Antey Concern has been put into operation in Kirov; it is designed to produce advanced missiles for all missile systems that are being built in the country," Korotchenko concluded.
The 'Poliment-Redut' is a naval-based air defense missile system with a vertical launch system for destroyers, frigates and corvettes. They are installed on next-generation ships of the Russian Navy.
Russian warships of the Steregushchiy-class (Project 20380) and the Gremyaschiy-class (Project 20385) corvettes are equipped with the 'Poliment-Redut' system. Moreover, this system with a larger number of modules is installed on the Admiral Gorshkov-class (Project 22350) frigates. The system can simultaneously strike 16 targets.
News source: Sputnik