26-01-2017, 17:42
Russian Pacific Fleet Ships Detachment back to Vladivostok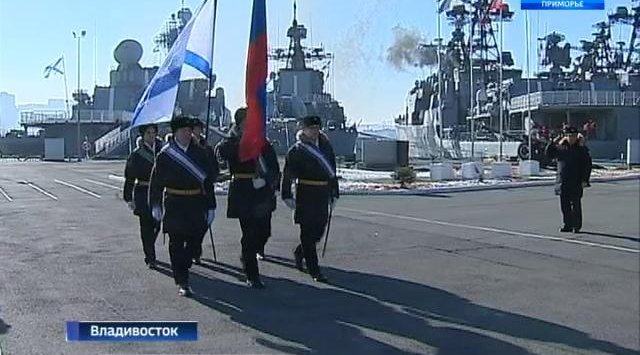 After nearly three and a half months they have returned home on 25th of January. Large submarine-hunting ship "Admiral Tributs" and tanker "Boris Butoma" of Russian Pacific fleet returned to Vladivostok port.
The 33rd quay – ships took departure from here and three and a half months later got back there again. Sailors are being welcomed with the sounds of military musical pageant.
This time Pacific Fleet sailors sailed about 17 thousand miles. They have visited Philippines and South Korean ports. Moreover, participated in international weapons show in Indonesia and have demonstrated their capabilities during Indra Navy-2016 in the Bay of Bengal.
A few days ago "Admiral Tributs" and "Boris Butoma" have been participating in joint Russian-Japanese naval exercises "SAREX". This is a great event, because sailors of Pacific Fleet didn't participate in joint maneuvering with Japanese counterparts for over three years.
Deputy Commander of Primorsky region flotilla of all-arms forces of Pacific Fleet Rear Admiral Eduard Mikhailov said: "During naval exercises sailors took part in maneuvering, search and rescue exercises in the Sea of Japan"
Friends and relatives met sailors with flowers and banners. And command authority, according to tradition, met them with roasted suckling pig.
News source: http://vestiprim.ru/news/ptrnews/45718-otryad-korabley-tof-vernulsya-iz-dalnego-pohoda-vo-vladivostok.html