20-01-2017, 15:36
Unique museum of toys is functioning in Spasskoye village for already almost 10 years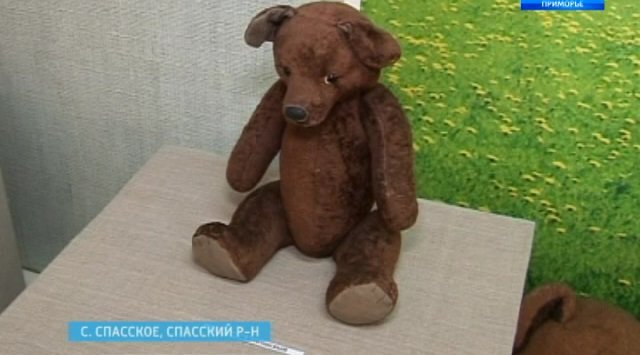 Unique museum of toys is functioning in Culture centre of Spasskoye village for already almost 10 years. This is the only museum of toys in Primorsky region. All the exhibit items are real depository of childhood emotions.
Since the number of exhibits is too big, even Irina Stepanenko, the caretaker of the museum doesn't know all the toys in the museum. There are lots of toys' types being collected in the museum: textiles, clay, wood and even attic toys are all there. There is also a section of New Year's rarities from the Soviet Union period.
Everyone who comes there, certainly harks back to the childhood.
It's worth to mention, that of all the toys, plush taliped bear toy is getting most of visitors attention.
This Teddy bear is one of the eldest exhibits in the museum. It was named after US president Theodore Roosevelt. What was the cause of it? During one of the hunts, president Theodore Roosevelt met a bear and decided to spared its life. This situation was cartooned in the newspapers and this cartoon became a prototype of a plush Teddy bear.
No one ever tried to count up the exact amount of toys, being collected in the museum, because the collection in being constantly appended. People keep bringing their beloved toys to the depository of childhood memories.
News source: http://vestiprim.ru/news/ptrnews/45476-v-sele-spasskoe-desyatyy-god-rabotaet-unikalnyy-muzey-igrushki.html