17-01-2017, 17:44
Vladivostok entered top three of the most popular Russian cities among foreign tourists during New Year holidays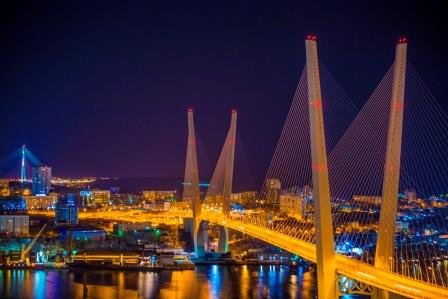 RoomGuru.ru Internet Search Service found out the most popular Russian cities among foreigners during 2017 New Year holidays. Ranking was made basing on foreign tourists' hotel bookings made on New Year holidays period. According to results, Vladivostok took third place by popularity among foreign tourists during 2017 New Year holidays.
During the New Year holidays, foreign tourists stayed in hotels of Vladivostok city about 2.5 days with average accommodation payment in amount of 3,4 thousand rubles per day. In St. Petersburg foreign tourists mostly stayed for 3 days ( for 3.9 thousand rubles per day), and in Moscow for 3 nights (average accommodation payment was about 4.3 thousand rubles per day).
Moscow, St. Petersburg, Vladivostok, Kazan, Irkutsk, Petrozavodsk, Yekaterinburg, Khabarovsk, Yaroslavl, Pskov, Krasnodar, Tula, Tyumen, Vyborg and Komsomolsk-on-Amur entered the top 15 most popular among foreign tourists Russian cities during 2017 New Year holidays, and Suzdal became the most popular small city of Russia.
The top five list of resort cities that were popular among foreign tourists during New Year holiday season includes Sochi, Gelendzhik, Yalta, Pyatigorsk and Kislovodsk. Most of tourists, that visited Sochi stayed there for 4 days and average accommodation cost was about 5,2 thousand rubles per day.
According to TurStat agency, the number of foreign tourists in Russia during 2017 New Year holidays has increased by 20% compared to last year.
News source: http://vestiprim.ru/news/ptrnews/45308-vladivostok-voshel-v-top-3-samyh-populyarnyh-gorodov-rossii-u-inostrannyh-turistov-v-novogodnie-prazdniki.html