15-09-2016, 16:27
Nearly 3000 tons of scallops have been raised on the sea farms of Primorsky region.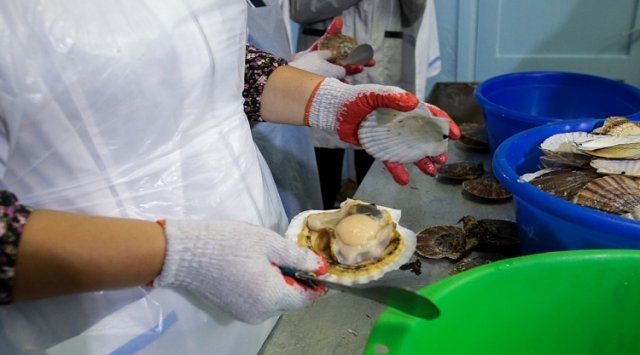 Aquacultures enterprises of Primorsky region have increased volumes of raised scallops and sea cucumbers.
According to the Department of Fisheries and Aquatic Biological Resources of Primorsky region, the volume of products, raised by aquacultures amounts more than five thousand tons. This exceeds last year index for 418 tons.
Experts said: "5142 tons of products are raised during the first half of 2016 year, where 2801 tons are scallops and 1244 tons are sea cucumbers."
There are currently 52 aquafarming enterprises in the region, which use 102 fish-breeding aquatories with a total area of over 18 thousand hectares.
In 2016, as part of state program on development of aquaculture enterprises of Primorsky region, local aqua farms have got state subsidies; total amount of these subsidies is about 20 million rubles. These subsidies are aimed at settling juveniles, leasing and purchasing of equipment.

According to Vice-Governor of the region - Sergei Sidorenko, first of all support will be granted to the enterprises that are willing to take responsibility for the fulfillment of the state program targets and are ready to provide local market with high-quality and at the same time affordable seafood.
News source: "Вести:Приморье" [ www.vestiprim.ru ]