29-08-2016, 12:30
Dockers of Vladivostok Commercial Port and employees of Far East Navy Research Institute and "Radiopribor" plant returned their right to work.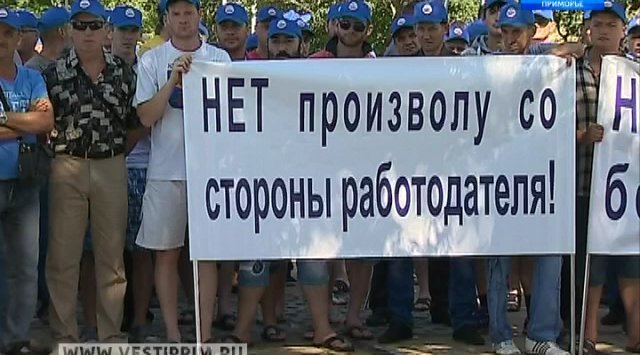 Employees of several enterprises of the region were laid off, but the situation was efficiently resolved and highly qualified employees' job positions were saved.
The employees of Vladivostok "Radiopribor" defense plant will work in the branch of "Dubna Machine-Building Plant". Thus, it was possible to retain highly qualified staff, which is able to solve important national problems. For example, every fourth Navy ship is equipped with electronic equipment that was made in "Radiopribor." To preserve the unique human resources and professional traditions of "Radiopribor", to pay off wage arrears, the Administration of Primorsky region allocated 120 million rubles from the reserve fund. And now, employees of "Radiopribor" plant keep on working.
The unique staff of the Far Eastern Navy Research Institute was also protected! Due to the absurd mistakes Research Institute could lose its accreditation, and that would mean the loss of working experience, which has no equality in the world. Six unique laboratories were under the threat of liquidation. After intervention of the labour union and the regional authorities, Russian Accreditation Service Appeals Committee restored accreditation to the Research Institute. The institute, which designs and modernizes ports, shipyards and coal complexes throughout the Far East will be able to keep on working!
In August, the transport prosecutor's office has identified violations of labor rights of dock workers of the Vladivostok sea port. The situation was taken under control by the governor of Primorsky region. According to the press-secretary of Vladivostok sea port, existing vacancies were offered to the absolutely all dockers, moreover, existing vacancies in an outsourcing company that works together with the port were offered to them also. After difficult negotiations, some of the dockers have agreed to change their occupation, while remaining an employee of the Vladivostok port. Other 35 workers didn't make their decision yet. The main thing is that the public attention to the present situation helped to protect workers' labor rights.
News source: "Вести:Приморье" [ www.vestiprim.ru ]