29-08-2016, 17:30
The Tatar-Bashkir community unites about 11 thousand people in Primorsky region.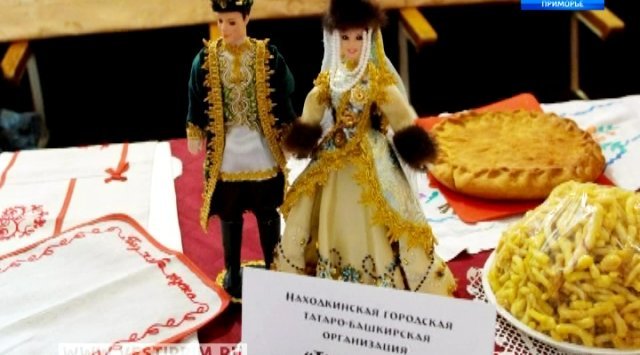 Ethnic Congress will be held in Primorsky region in September, it will bring together representatives of more than 150 nationalities of Primorsky region. One of the most numerous ethnic communities of Primorsky region is Tatar-Bashkir community, which unites together nearly 11 thousand people. Our reporter visited Nakhodka and found out what treats will be prepared by the members of this community for the upcoming Ethnic Congress.
According to Tatar traditions, guests welcoming is women's responsibility, first of all guests should be invited to the table and plied with traditional dishes, such as belyash, chak-chak honey sweets, and, of course, milk tea.

Amina Hasanova - mother of three kids, grandmother of six grandchildren, and great-grandmother of five great-grandchildren. She calls herself Siberian Tatar, this year she is already 82 years old. Six years ago she moved to Nakhodka to her eldest daughter, Kamila. Previously whole big family lived in the Amur region. Amina quickly settled down at the new place and became the "soul" of local Tatar Community.

The lady of the house, Kamila all her life worked as a teacher of computer science, she has graduated from Primorsky Polytechnic Institute, lived in the Khabarovsk Territory, and 23 years ago, moved to Nakhodka to live together with the parents of her husband. By the way, her husband is Russian. In recent years, Kamila became actively involved in the public life of the city and region. At first, she was a participant of Sabantui Celebration on Russian island in 2012, after that she has participated in Tatars forum in Kazan, and, of course, she couldn't miss the annual celebration of National Unity Day.
Kamila Glytina, a resident of Nakhodka says: "Of course, with aging you are getting more interested in history and traditions of your ethnie, your country, the role of your ethnie, costumes and cuisine."
This summer Kamila's younger sister Nasima with her husband and daughter have visited them in Nakhodka. They came from St. Petersburg. They like our sea a lot, but that was not the main reason to arrive, the main reason was to visit relatives, communicate with the loved ones.
Nasima's eldest daughter, 19 years old Elvira, will soon become an actress, she dreams to play many roles on theatre stage, but she never forgets about her family roots. She likes Tatar traditional costumes a lot.
Summer comes to its end and guests have already flown back home. Next summer they plan to visit Primorsky region again and necessarily take part in the national holiday of Tatars and Bashkirs - Sabantui-2017.
News source: "Вести:Приморье" [ www.vestiprim.ru ]