25-07-2019, 12:37
«Vesti:Primorye»'s Instagram got in the top-20 of Russia's regional TV-channels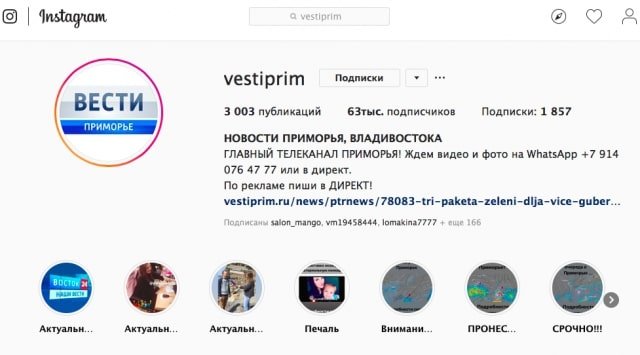 Instagram account of «Vesti:Primorye» - @vestiprim, according to the free audit service «IGAudio.io» took the 11th place in the top of the most popular instagram accounts among regional TV-channels.
For today, @vestiprim has 63 thousand followers. The amount of followers increased in 4 during the last year.
The first place of the top took «Chechnya» with 364 thousand followers, the second - NNT (Makhachkala) with 227 thousands and the third - «Irkutsk» with 158 thousands.
Two companies from Primorye, besides «Vesti:Primorye», got to the top as well. Telemix from Ussuriisk took the 9th place and OTV-prim form Vladivostok took the 17th place.
News source: www.vestiprim.ru