24-08-2016, 17:11
First Honey Festival was held in Anuchino village.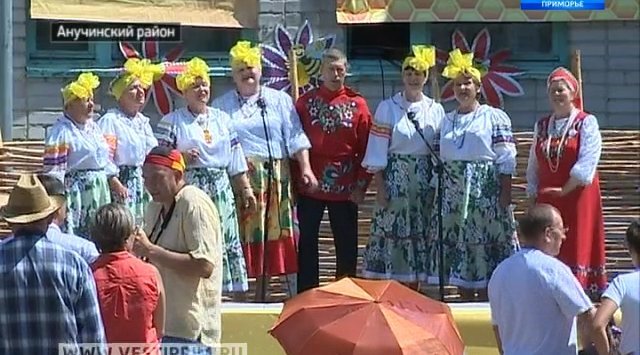 First Honey Festival is being held in Anuchino village. Anuchino always considered as honey production center in Primorsky region, but such festival is being organized here for the first time.
Beekeepers in Anuchno village are trying to revive the prestige of their profession. That is why the 1st Honey Festival was organized there. Guests of the festival got a chance to have a good time and beekeepers were able to present their products and discuss existing problems.
At the first Honey Festival in Primorsky region, beekeepers presented dozens varieties of honey. Anyone had a chance to taste them and express their opinion on the taste.
During the festival guests could enjoy songs, dances and organized for them quizzes.
Beekeepers from different regions of Primorsky region came to Anuchino to participate in this festival. Here they were able to not only show off the results of their hard work, but also to talk about existing problema. And the main problem of all beekeepers in Primorsky region is destruction of Linden trees. If we continue to cut down Linden trees, then in the future our grandchildren and great-grandchildren will not have an opportunity to taste Linden honey.
Honey is not only difficult to collect, but is also difficult to sell profitably. There are not many options, beekeepers can only trade at the rare food fairs, either sell cheaply to the bulk buyers.
Bulk buyers from Arsenyev, Moscow, Spassk, Yakovlevka and other places come here to buy local high quality product.

During Soviet times, annually collected about 90 thousand tons of honey in Primorsky region. Currently, almost 20 times less. Perhaps, the festival will become a first step in reviving of honey industry in the region.
News source: "Вести:Приморье" [ www.vestiprim.ru ]