27-06-2019, 21:37
Vets are trying to safe an injured lynx in Vladivostok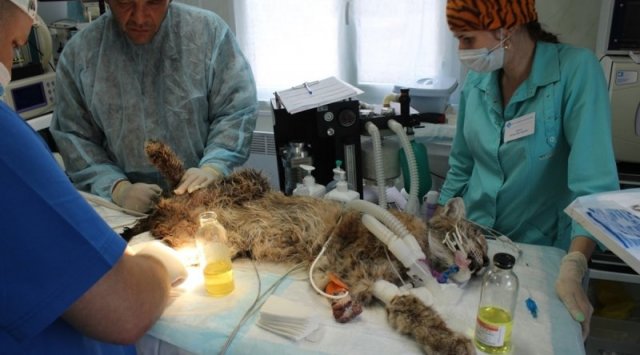 Vets of Vladivostok's state clinic and Primorye's Safari-park are fighting for a young lynx's life. The predator has front and hind paws injured and its general state is considered as difficult.
According to vl.ru at the begging of June in Vostok village a male lynx started to be seen. The animal was hiding in basements, going to dumps in order to find food. From his movements, it was clear that the lynx was injured.
It took specialists a week to find the animal. After examining the animal, it was confirmed that the left front paw was traumatized by a trap and the wound started to rot.
Vets held the first surgery where they took dead tissues out. But while the lynx was living with an open wound, a general infection started to develop as well as an infection process on the hind paw. The second surgery was needed immediately. According to the surgeon Stanislav Akhmadeev, the situation is very difficult but the vets are ready to fight for lynx's life until the end.
News source: www.vestiprim.ru