5-02-2019, 17:35
More than a hundred dog breeds were presented at the All-Russian Exhibition in Vladivostok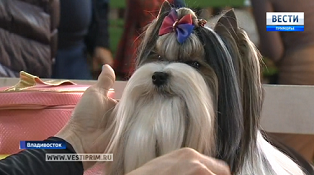 More than 800 dogs were presented in the All-Russian exhibition in Vladivostok. 120 breeds of domestic pet judges from Russia, Finland and Serbia were evaluated.
Yakut huskies take most of allattention.
Elena Sidorova is one of the first breeders of Yakut Laika in Russia.
More than twenty years ago she feeds a puppy harness from the northern Pokhodsk village.
From those 11 dogs breeding begin.
Elena brought eight huskies to the exhibition in Vladivostok.
The naked eye can see - puppies born in the north, at times "thicker" coastal Yakutyans.
On average a puppy costs 90 thousand rubles.
Dog will take you on a hunt and ride through the woods in harness.
But the huskies can not be guards.
Today there are poodles, yorkshire terriers, samoyeds and even more than a hundred breeds.
Each dog is prepared by the whole team: they make hairstyles, wear jewelry and even powder their feet.
Experts note that now the most popular breeds are Labradors and Golden Retrievers.
News source: www.vestiprim.ru