29-11-2018, 17:11
The "Painting of Primorye" calendar was presented by the Primorye State Art Gallery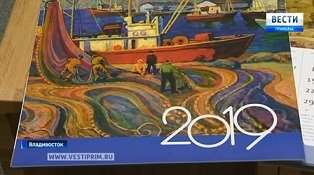 Primorye art gallery promotes art in a new format.
Today there was the first presentation of the calendar - "Painting of Primorye."
On the cover of the calendar - the work of the Ussurian artist Nikolai Volkov "Before Putin". The beginning of the year in the fishery region is like the beginning of big things.
The calendar includes works by masters who make up the glory and pride of seaside art - Ivan Rybachuk, Kirill Shebeko, Nikolay Mazurenko.
Many of them have already died, but their works on calendar will enter the house of everybody.
Alexey Pleshivtsev is living now. His "White ships" composition on the page of March.
The gallery dreamed about it for twenty years.
And this is not just a calendar with pictures.
Here you can find the date of artists birthdays, in which month were founded the institute of arts or the children's museum center.
The calendar presentation anticipates the opening of a large exhibition - "Heritage".
Pictures from the pages of the calendar and portraits of the masters themselves can be seen in the ceremonial hall of the regional gallery, where these days all the variety of Primorye paintings are presented.
News source: www.vestiprim.ru