9-11-2018, 16:10
Georgian diaspora of Primorye is preparing for the 80th anniversary of the formation of the region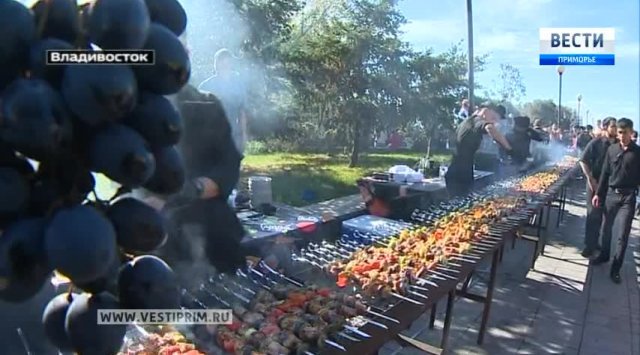 Rtveli holiday is celebrated in Georgian traditions in Vladivostok.
The most amount of grape in the Far East, Primorye, as well as the sunny republic, berries harvest is in October.
A good time to crush the grapes and fry a giant kebab.
For the Georgian diaspora, it is also an opportunity to prepare for the 80th anniversary of the Primorye.
The main thing is to have a lot of good people to squeeze out a juice.
It is necessary to have strong legs and keep pace.
In Georgia the grapes are pressed in a circle, they put hands on the shoulders, take three steps to the left, three steps to the right, one step forward, two steps to the left, two steps to the right, one step back.
Native Georgians are usually in red color.
Primorye also has small Georgia.
Big shashlik - 12 meters of meat with eggplant, zucchini and bell pepper, burning, make not only Georgians for everyone.
The lezginka master class will be repeated on the birthday of Primorsky Region.
News source: www.vestiprim.ru