21-09-2018, 16:40
International drills of coastal defense units of Russia and South Korea were held in Primorye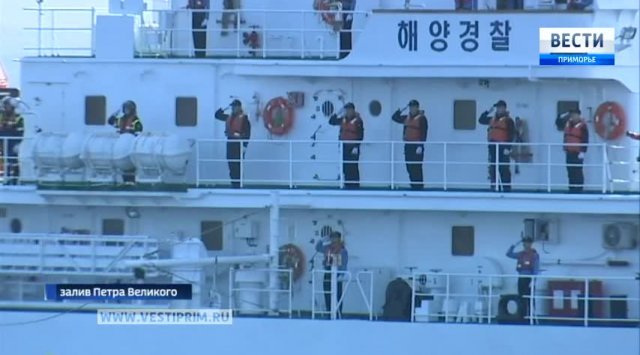 In the Gulf of Peter the Great, multilateral international exercises of Coast Guard units were successfully completed. Russian border guards, along with their counterparts from South Korea, worked out the search and detention of the vessel, which the terrorists seized.
Sergei Stanchik, correspondent: "The Sea of Japan. The Gulf of Peter the Great. The border patrol ships of Russia and South Korea are preparing for the beginning of naval maneuvers. According to the legend of the exercises, the terrorists seized the Russian fishing boat "Saturn", which followed from Nakhodka to Pusan. "
On board the captured schooner crew of six people. To save people is the main task. The helicopter of the FSB aviation flew to the search for "Saturn". From the air K-27 detects a terrorist-controlled ship. The pilots transmit the coordinates to the Coast Guard of Russia and the Republic of Korea.
Andrei Filimonov, Deputy Head of the Frontier Department of the Federal Security Service of Russia for the Primorsky Territory: "We consolidate those elements that have already been achieved and passed through past exercises. And we come up with something new. On these exercises was the fact that the coordination of our actions took place from the air, from the helicopter. What gave us more opportunity to assess the situation and make more correct, adequate decisions. "
News source: www.vestiprim.ru