7-05-2018, 17:30
"Primorye is territory of friendship": Ukrainians and Belarusians Primorye are preparing for the celebration of Victory Day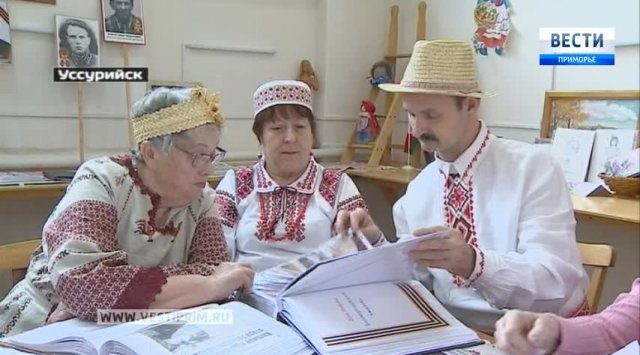 The slavs are preparing to celebrate Victory Day in Primorye.
On the 9th ofMay 9 the Primorye center of Ukrainian culture vocal ensemble "Bereginya" will hold a big concert in Vladivostok.
Today they are making repetitions.
In Ussuriysk, "Belorussians of Primorye" are preparing the procession in the immortal regiment restore the archives of the past.
The Ussuriysk Belarusians recollect Red Army.
Anastasia Terentyeva from the Polissya village of Baklany remember how they were hiding from the Germans, as the father took the kids to the partisan detachment.
Vladimir Shmelev restores old photographs, so that the heroes-fellow countrymen passed in the ranks of the immortal regiment. His wife Tatiana will bear a portrait of her father. Ivan Krieger from the village Verkhutino, near to Minsk, from the beginning of the war was a partisan.
The 73rd anniversary of Victory, the Belarusians and Ukrainians of Primorye will celebrate in national costumes. This event is in memory of the fathers and grandfathers, for them were no boundaries between the Slavic peoples. They defended their native land.
News source: www.vestiprim.ru