12-10-2016, 17:25
Russian Open Grand Prix 2016 Badminton Tournament has finished in Vladivostok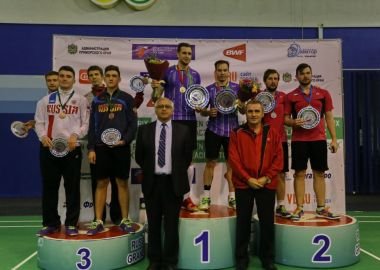 Final badminton tournaments of the Russian Open Grand Prix World Series have finished in Vladivostok. The competition was attended by leading sportsmen of nine countries. Under the conditions of tough competition, Primorsky region badminton players managed to win one gold, one silver and three bronze medals.
Male and female badminton players that are participating in the singles, doubles and mixed pair court competitions have been fighting for victory for five days. And only representatives of three countries - Russia, India and Malaysia got to the finals of this prestigious tournament.
Sergei Baev, the tournament's director, president of the Badminton Federation of Primorsky region says: "Despite the fact that the Olympic season is over, the selection of athletes for Tokyo 2020 Olympic Games has already started, this competition will also contribute to the results of this selection."
Chief Coach of Russian National team is satisfied with the overall results of this tournament:
"Of course, it is a great joy that many of our athletes got medal places, but some of our good singles did not show themselves and not even got to the finals."
The winners of Russian Open Grand Prix 2016 Badminton Tournament have got their medals and the prize fund of Russian Open - 55 thousand dollars. Next year will be the next time the strongest badminton players of the world will arrive to Vladivostok".
News source: www.vestiprim.ru