9-08-2019, 12:01
«Bear Madonna»: bear cubs breast-feeding filmed for the first time in «Land of the Leopard» National Park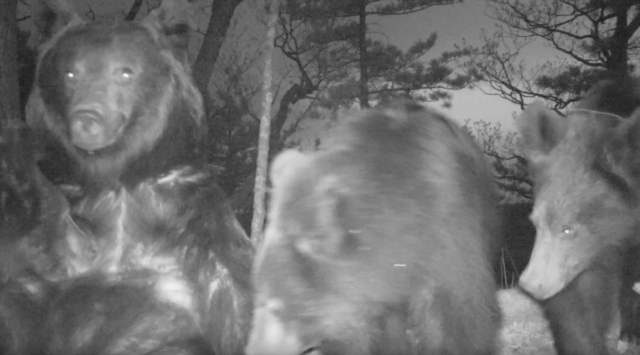 Unique shots were made by a photo trap in the central part of «Land of the Leopard» National Park. A bear family was depicted: a female brown bear with her three cubs during an unusual moment. Even though the cubs are more than one year old, they are still feeding on their mother's milk.
According to the specialists, the photo trap caught cubs that are approximately one and a half year old. Unusually, bears leave their offsprings at this age, but if the conditions are pleasant, the family can stick together up to three years.
Being one year and a half, the cubs are able to feed on nuts, berries and small animals themselves. Although sometimes caring mothers do not refuse breastfeeding to their cubs.
On the shots it is clearly seen that the mother is not hindering from feeding her children.
It is possible that bears live in very good conditions in the National Park. Often, bear litters do not split if there is a lot of food, like in Alaska or Kamchatka. In these parts of the globe, a longer breast-feeding period is noticeable as well.
Moreover, another sign of the park being a pleasant place for the animals is a story of a family of six bears. The mother did not only raise her children, but also spent three years with them. This case happens for the first time in Russia and, possibly, in the whole world as well.
News source: www.vestiprim.ru