27-06-2019, 12:00
New season of «Summer dancing evenings» started in Vladivostok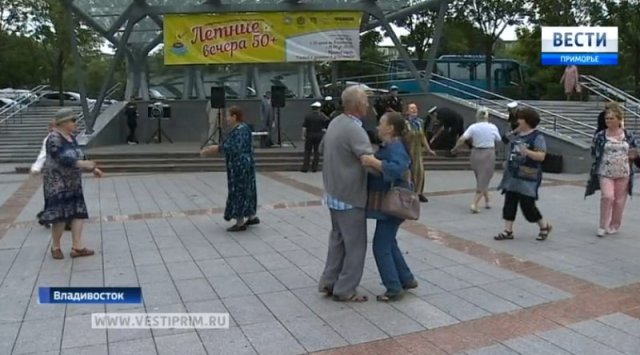 A new season of «Summer dancing evenings» has been opened for seniors. Even in their venerable age, they are ready to dance anytime. Valerii Sudzik doesn't consider himself as a senior. Third summer in a row he comes to the dance floor.
Valerii Sudzik, Vladivostok's citizen: «I don't miss evenings like these. How can you do other way? We are humans, not animals! Even animals, they communicate!»
A lot of people who live in Vladivostok are familiar with the tradition of the wind orchestra performing in the park since their youth. Thousands of people have supported the idea of reviving this tradition.
People dance not only to retro music, but to contemporary music as well. So this year, the evenings are going to be full of different entertainment programs.
«Summer evenings» will take place near Dom Molodezhi in Vladivostok every Wednesday until September.
News source: www.vestiprim.ru