9-08-2016, 17:38
Chinese ocean liner visited Vladivostok port for the first time.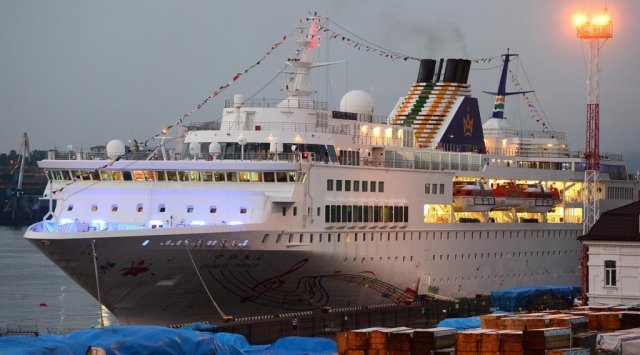 «Chinese Taishan» arrived to the Eastern gates of Russia. This is the first time when Chinese ocean liner visited Vladivostok port. There are almost one thousand of Chinese passengers on board. This visit of a passenger liner can be called a landmark for the development of the tourist potential of the Primorsky region.
This event is very significant in the history of Vladivostok cruise tourism - liner passengers are being warmly greeted with bread and salt according to Russian tradition. This passenger liner was built in 2000. Its length is 180 meters, width - 26 meters, it sails under the flag of Panama. It has 700 passengers and 350 crew members on board. The ship is named in honor of the sacred Tai Shan Mount in Shandong Province. This cruise began on 1st of August in Chinese Qingdao port, after staying in the Japanese port it arrived to Vladivostok, and then will go to the South Korean Busan port. «Chinese Taishan» stayed in Vladivostok city for one whole day.
Visit of Chinese passenger liner to Vladivostok marks a new stage of development of the tourist potential of Primorsky region, since Chinese cruise market is the largest and fastest growing in whole Asia. Cruise market participants expect that the joint effort will help to arrange visits of Chinese ships to Vladivostok port on a regular basis. Chinese tourists from this liner have got a chance to visit the most interesting sights of historic center of Vladivostok.
At present total amount of major changes in tourist sphere of Primorsky region let us think of development of Vladivostok port as not just cruise liners temporary parking port, but as port of departure for new sea cruise routes in the region.
News source: "Вести:Приморье" [ www.vestiprim.ru ]