8-08-2016, 17:31
Direction signs for tourists will be installed in 10 districts of Primorsky region.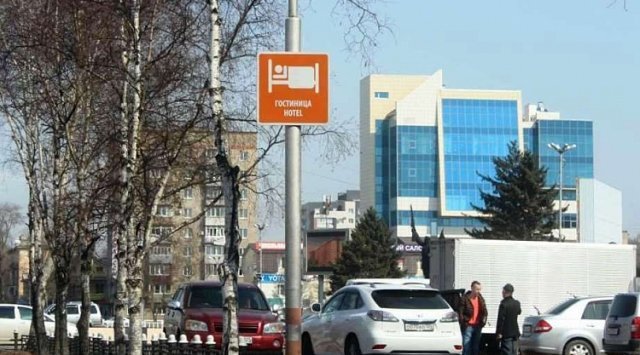 In 10 municipalities of Primorsky region specialists of Tourist Information centers of Primorsky region will choose first tourist facilities to install directions signs with orienting point in two languages. These measures are being implemented as part of the project "Hospitable Primorsky region".
The second "7 Wonders of Primorsky region" rally starts in Vladivostok on 13th of August. During seven days column of cars with the representatives of the tourist industry, journalists and experts in the field of culture and history will check the tourist potential of Primorsky region and search for the suitable place for the directions signs installation.
As noted in the Tourist Information Centre, day by day Primorsky region is getting more and more open to Russian and foreign tourists, so the municipalities and regional authorities are making everything to create the most comfortable conditions for the guests.
At the end of the " 7 Wonders of Primorsky region" tour, specialists will define the list of objects of cultural heritage and other tourist attractions, where tourists direction signs will be installed.
Tourist direction signs will have a traditional brown background with white imprint of object symbol and name in English and Russian languages on it.
It worth mentioning that some of such direction signs are already installed in the central part of Vladivostok. At present, there are 12 tourists direction signs in the city. They can be seen near the Railway Station and Harbour Station, on the Aleutskaya str. and Svetlanskaya str., near Ship Embankments and Vladivostok Sports Harbor Embankment, near "Eagle's Nest"hill, on the Russian island and near the facilities of Vladivostok fortress - Voroshilov Battery and Museum of "Vladivostok Fortress". In total, 30 tourists direction signs will be installed in the city.
According to the vice-governor of Primorsky region, Sergey Nekhaev opinion, Primorsky region is one of the largest tourist centers of the country.
"The main task now is to develop and improve the tourist industry in the region and bring it to a new level. I am confident that the tourist industry will continue its rapid development and become one of the main "points of economy growth" of Primorsky region" - said vice-governor of the region.
News source: "Вести:Приморье" [ www.vestiprim.ru ]