3-06-2019, 11:30
The concreting of the Vladivostok-Nakhodka-Vostochny Highway began in Primorye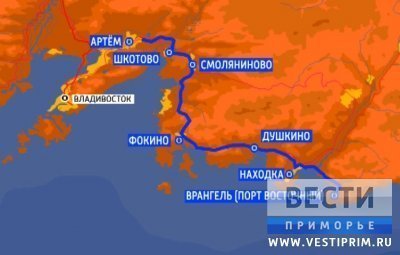 The builders of the modern Vladivostok – Nakhodka – Vostochny Highway started concreting the roadway.
As the representative of the Transstroymekhanizatsiya LLC, Yevgeny Sheremet, reported, concreting is already close to the junction in the Silinsky state farm area.
He said that they had completed work on the first 400 meters. There is concrete layer with a thickness of 24 centimeters. In the same time they are working on the foundation of the road in the following areas, they built reinforcement for subsequent concreting. This year they plan to open a 1.7 km long section along the Vladivostok – Artem road.
Further, they examined the construction of a bridge over the Artyomovka river. Employees of Mostostroy-11, who previously participated in the construction of the Crimean Bridge, are working there. The builders said that the object is technologically complex.
Now, the work goes in time. 112 pile foundations are set on the overpass. Now they are currently working on eight pillars.
According to experts, the builders are planning to open this road in the end of next year.
Totally there are about 1,200 people are working in the construction of the road now. Among of them 80% is from Primorye. Also they have more than 100 units of various vehicles.
This objiect is very important for the development of the Primorsky Region and will contribute to the growth of the economy of the Far East.
This road will connect not only the major ports of the region, but will become an international transport corridor, which will provide a constant flow of cargo from other regions, including foreign, primarily Chinese, through this region.
It is also important that seaside personnel work at the construction site and the production facilities of the enterprises of the region are used.
Vladivostok – Nakhodka – Vostochny Port highway is part of the Primorye-1 international transport corridor. The first phase of the project - a site in the Artem area - was open in 2016. Currently, work is underway to implement the second stage - from Artem to Tsarevka. By the end of 2020, three traffic interchanges will appear on the new highway - in the Silinsky state farm, Shkotovo and Tsarevka villages, 12 overpasses and an overhead road with a total length of two kilometers.
News source: www.vestiprim.ru