22-05-2019, 17:25
Recent years largest repair campaign started in Ussuriysk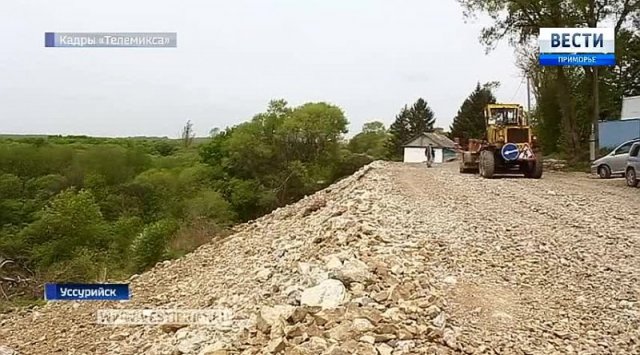 Recent years largest repair campaign started in Ussuriisk, which will change the appearance of the city's roads. In 2019 almost 800 million were allocated for the reconstruction and maintenance of the tracks. Road builders plans to repair 30 streets. The list includes not only the main roads of Ussuriysk, but also rural roads.
On the Henin hill, the construction roar equipment was awaited with impatience. Seasonal showers completely blured the street. Water streams, washing away the road, are getting closer to the houses. In September, the 18th the site was saved from collapse.
Today, the unsafe street is one of the first on the road repair list. A brigade and 10 pieces of equipment are working at the facility. They took up the work thoroughly. Start with drainage.
Vozdvizhenka, Krounovka, Krasny Yar and a number of villages in which road equipment will work this season. Part of the streets got to the list of "burning routes" at the request of residents.
In addition, at the expense of the local budget in Ussuriysk, 14 inter-quarter passages, 8 stops and five sidewalks will be repaired, one of which will be built from zero. On each repair site will provide barriers and drainage systems. A city that has been suffering from floods for the fourth year in a row must reckon with the elements even in a road matter.
The local authorities promise to carry out a large-scale repair campaign in full, so that by the end of the year the Ussurians could assess the quality of the new roads. Now the main thing that the weather will be excellent.
News source: www.vestiprim.ru