8-05-2019, 15:41
Students of the Primorsky College of Art made a concert dedicated to Victory Day to the residents of Vladivostok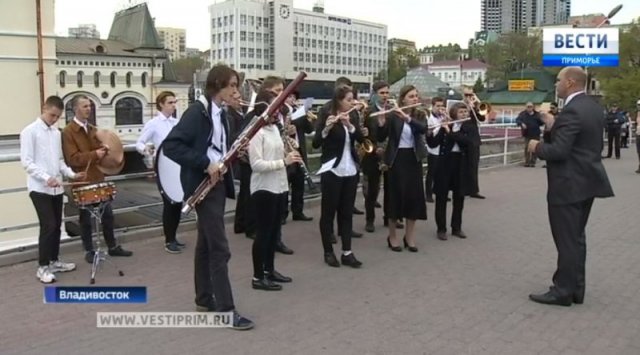 In Primorye, started events dedicated to Victory Day. The railway workers with the students of the Primorsky Regional College of Art perfomed two unusual concerts - on a pedestrian viaduct and in the waiting room of the station. But preparations for the holiday began at dawn, in the depot on the First River.
The second concert venue was the railway station. The dull waiting for the departure of their electric trains for passengers suddenly became unusually solemn.
Concert numbers students of the Primorsky College of Art have combined military songs into a large baton.
On the 8th of May, the songs and the waltzes of the Victory at the station will begin to sound again. At 10.45 a locomotive with a military train arrives at the end point of Transsib, from where in the 40s he took the inhabitants of Primorye, food and equipment to the front.
News source: www.vestiprim.ru