22-04-2019, 18:00
This is for Kim Jong-un: a red carpet appeared in Vladivostok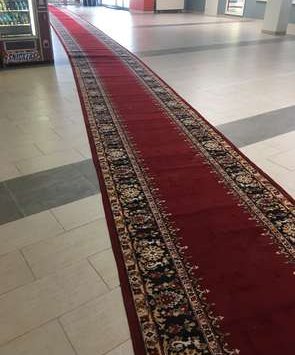 It is still unknown whether Kim Jong-un will visit the Far Eastern capital or not.
However, in one of the buildings of FEFU they are preparing for a solemn event.
In the social network "Vkontakte" in the public "Overheard FEFU" one of the eyewitnesses reported that in the case S in FEFU a red carpet was laid.
Moreover, the author published that this is allegedly connected with the arrival of North Korean leader Kim Jong-un.
"In connection with the arrival of Kim Jong-il FEFU corps was equipped according to the latest international standards," said the public in the social network.
FEFU students also know about the arrival of the North Korean leader. The source of the agency, which is precisely a student, explained that earlier they had information about the possible cancellation of classes on Wednesday and Thursday, April 23 and 24.
In FEFU they are preparing for some event. For students, it has been closed since April 17 of this year. The exact reasons for this decision are unknown. One of the FEFU employees only explained that it is possible connected with EEF that will take place in the building.
By the way, on Thursday, 18th of April 18, the FNN news service of the Japanese television company Fuji TV reported that a North Korean official, Kim Jang Son, was allegedly noticed at the railway station in the capital of the Far East on Thursday, 18th of April.
The journalists suggested that he might have arrived Primorye to prepare for the visit of the North Korean leader.
News source: www.vestiprim.ru