12-02-2019, 17:51
The new project of the state television and radio company Vladivostok "Beauty School for young ladies"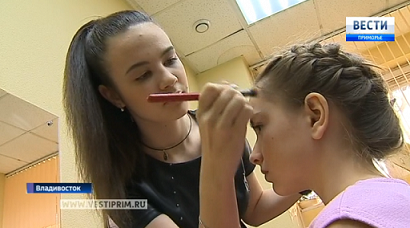 The new project "Beauty School for Young Ladies" launched the Vladivostok television and radio company. Professional makeup artists during the month taught girls to do makeup and hairstyles. Acquainted with the history of the beauty industry and disassembled the compositions of cosmetics.
How not to provoke the anger of teachers and become a star "Instagram". Latest makeup trends and the most fashionable hairstyles. All this is now known and able to bring to life the pupils of the "School of Beauty" - the new children's project of the "Vladivostok" State TV and Radio Company.
This course is not just about how to properly make up the eyes and lips, learning much deeper is more serious. In the trend today is still natural beauty. Therefore, in the first place, girls were taught to properly care for their skin and hair.
Young ladies passed exam in the largest television studio of the Far East. The strength of the makeup was checked under the light of spotlights and the sight of video cameras, because you had to cope with anxiety.
News source: www.vestiprim.ru