8-02-2019, 16:34
Russian President realized the dream of a Primorye girl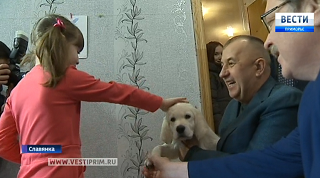 The president realized the dream of Veronika Uvaeva from the Primorye village of Slavyanka – she got the present - a puppy.
The girl suffers from autism, and the dog will become a true friend to her.
Veronika Uvaeva from Khasan District is six years old.
The girl goes to the kindergarten, but she has few friends.
We decided to have a companion dog, but the family does not have money for a special breed, all funds are spent on the rehabilitation of the daughter.
The family appealed to the president and he helped.
Golden Retrievers are faithful companions for people with communication problems.
This breed loves children, calmly walks on a leash and gives in to training.
But the main thing is that caring for a dog child develops comprehensively.
From now on weekdays Veronica will be much more active.
Her new friend will help her.
And this means that the life of the special girl will play with bright colors.
News source: www.vestiprim.ru