28-05-2018, 11:00
Needle-nosed owl became the new guest of the Vladivostok zoo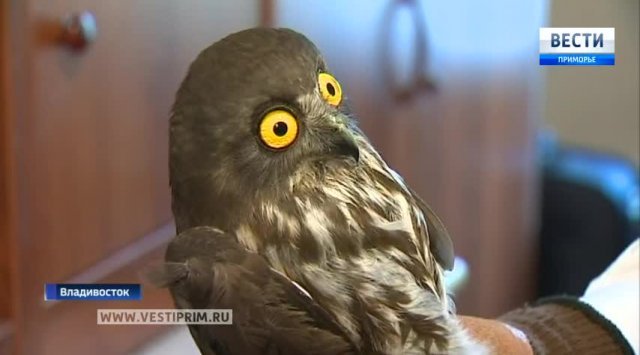 A few days ago a student from Vladivostok got an unusual pet.
He saved the wild owl right in the middle of the city.
Now she is at the zoo, under the supervision of specialists.
Student Ivan Tskhovrebov was going for a run, when suddenly from the window he saw several dozen crows. In the fight suffered the real owl. Young man decided to help her.
During examination, it was found out that the owl had problems with the tail.
Without it, birds are difficult to fly, and they can not hunt at all.
So, you can not live alone.
Ivan learnt the information from the Internet and talked with a veterinarian.
First time owl was even difficult to have a meal.
Journalists of our company decided to help the owl.
They took it to the zoo near Vladivostok.
Ornithologist identify that this is an Needle-nosed owl and now she has a period of migration.
This year, they have already helped to three such owls.
The specialist believes that the bird will return to the wild nature very soon.
The owl will be in quarantine for two weeks, and then it will live in the aviary with another birds.
But now the most important thing is restore health and grow a new beautiful tail.
News source: www.vestiprim.ru