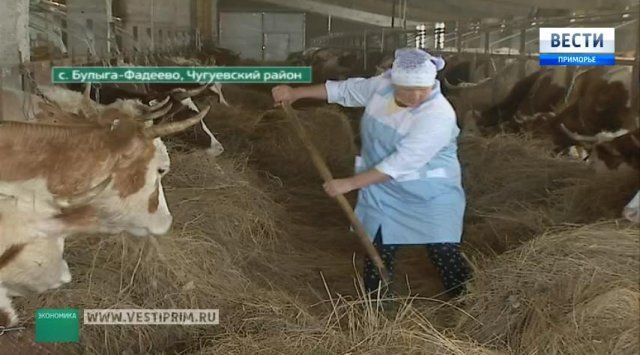 Farmers of the Bulyga-Fadeevo village earned their initial capital out of bee breeding. Future founders of a tidy farm, which includes hundreds of hectares of fields, tractor park and dairy herd used to keep beehives and produce the best honey in the neighborhood.
Lyudmila Olesyk, the head of the farm, was a kindergarten teacher at the state farm, then became a staff officer. During reformation period she took a correspondence course at the Faculty of Economics of the Ussuriisk Agricultural Institute.
The state farm she worked in got broke. And in last year December she and her family bought out this wrecked farm, they took all barely alive or dirty cows. It is hard to believe, that these cows could turn into fatten up and healthy animals.
When dairy cows life quality improved – they got to live in a dry cow kennel and get fodder of a good quality - cows began to actively bring forth. As a result, now there are only 105 dairy cows in the herd, the rest are either near delivery, or newly born calves.
Pinfolds for calves were placed in the cow kennel. In fact, according to farmers' plan, separate calf shed and corral for the stud bulls should be built in the near future. In order to fulfill these plans, farmers have to reap a good harvest. The farmers rely not on the bank loans, but on the most popular inoculum in the Far East- soybeans.
There is a sheepfold within an inch of soybean field. Before the appearance of cows, sheeps and lambs were the main fosterling of farmers. And now they bring a small, but constant income. Shepherds and horses control the entire cattle at the farm.
Another farmers' dream is to attract rural youth to the farm. Of course, farmers would eagerly welcome young people from other regions also, but not many would like to move to the distant region. The main task now is to attract and prepare young specialist.
新闻来源: http://vestiprim.ru/news/ptrnews/48750-krepkoe-hozyaystvo-sozdali-fermery-iz-sela-bulyga-fadeevo.html#